URBAN SURVIVAL TIN
FREE DOWNLOAD + MORE
How to Build the Ultimate
Urban Survival Tin
In this free download, Urban Knife Guy (UKG) shares his details of his urban Altoids survival kit.
What makes this tin different is that it focuses on urban survival. This is not an outdoor or wilderness survival kit. The urban environment is quite different with different opportunities and different challenges.
Most survival tins shared previously by others were designed for the outdoors and urban tins were designed more as convenience kits for EDC or everyday carry.
This urban survival tin was designed for surviving three different scenarios that can take place in an urban environment:
Disruption – E.g., power outages, protests, riots.
Disaster – E.g., natural disasters, major accidents.
Attack – E.g., terrorist, active armed assailants, unstable individuals.
The kit provides an increased chance of survival in these three situations by providing three main functions:
Illumination
Utility
First Aid
This urban survival tin is meant to be an EDC (that is everyday carry) so it was designed to be small, compact, and as lightweight as possible.
The download includes the detailed list and links to the contents of the survival kit. More importantly, UKG shares the rationale and justification for each item and why they are included in the kit.
The kit features 25 items with more than 50 practical functions for urban disaster survival.
In this second free download, Urban Knife Guy shares the details of his concept design and instructions for making a DIY EDC Pocket Organiser.
The organiser was designed to hold mini-EDC tools in a pants pocket, pouch, or handbag. Of course, it is an excellent way to store and organise smaller pieces of gear in a large bag.
While originally designed to hold a 58mm Victorinox Classic Swiss Army Knife, Olight IR2, Gerber Dime keychain multi-tool and credit card (or credit card-sized tool), it can easily hold similar objects. If not, the organiser can be custom tailored to fit your needs.
This is an original design by Urban Knife Guy and all manufacturing rights are reserved.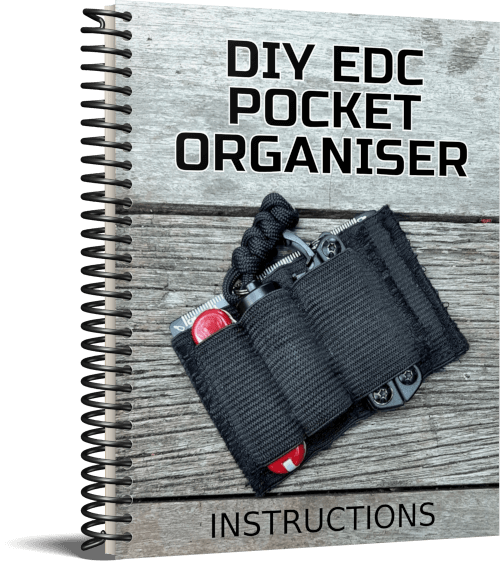 Download the Free GuideS Below
By providing Urban Knife Guy with my personal data, I agree that Urban Knife Guy may collect, use and disclose my personal data for purposes in accordance with its Privacy Policy and the Personal Data Protection Act 2012. I understand that my personal data may be used for marketing purposes by Urban Knife Guy